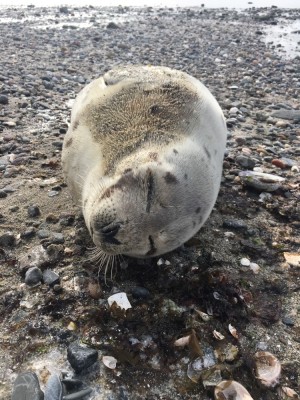 Adventurous am....Some friends and I took my lab puppy & their dogs for a walk on the beach near my house this am (3,000 steps...wish it were more) and came upon a harbor seal just laying there. We thought it was sick....we called for help...and luckily the seal was fine... he was just relaxing & drying off by himself. I had never seen a seal on our beaches before....so that was a happy start to the day.
After my daily am puppy walk....I get to work 10-5....behind my computer and sit almost all day. I hate that my job is so sedentary. It is now 8:00 pm and I have gotten 4,100 steps in total. It is really cold in RI lately...but once the weather turns a little warmer...I want to get outside in the evening and get at least 10,000 steps.
I do my Kenzai workouts from 6:30-7:30 every evening....but I still wish I could get more steps in.
Food wise- I am doing pretty good...Breakfast is easy to follow. Lunch today I took left over Indian food we had made...and I mixed a little of that with some broiled chicken and vegetables so the food had more flavor. Dinner we have a Hello Fresh meal...that I am weighing to eat the right amount.
In general alls going well...just want to walk a little more.
---