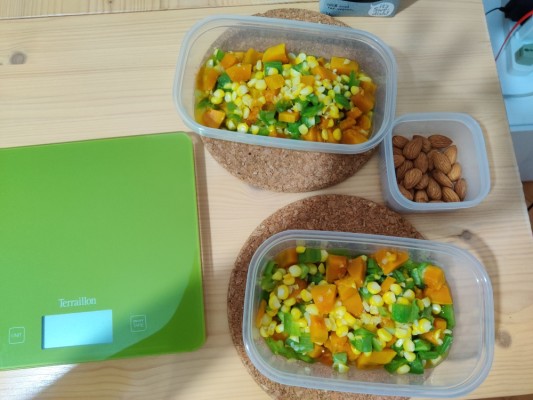 To begin with, I am 80% Meal-Kompliant just for this week because I'd signed up for a meal plan service a month ago. Nutrition kitchen in HK was running a 2 week pilot for veg/vegan meals and I really needed a break from cooking or thinking of meal options at that point in life. I must say I am impressed with the contents and variety and they are tasty - Cooking TIP "Jerk rub" on pan roasted beans / tofu does wonders for the flavoring!
This is my second and last week with them, while the macro parts of the diet (Carb+protein) are within my allowance for the breakfast and lunch that I receive, the proteins are not completely without oil and salt.
I bring my own stirfried/steamed veggies to make up for the lack of them in some portions and am well stocked up on fruits and almonds and seeds. If the meal is completely out of bounds (for eg contain cheese or beyond meat or impossible meat (vegan fake meats) or too much salt then I give that away to a kind obliging colleague and have the meals I've prepped.
Tonight will be a challenge (first of many), I booked a work dinner at my favourite sri lankan restaurant here (yes Kim M - Hotal Colombo), though I am sure I can eat within the weight/allowance in the brinjal moju and hoppers, I am very aware of the high salt and oil content in everything to feel un-ok about it.
So while everyone will go gaga over the spicy delicacies which I am going to recommend and order and absolutely insist they try, I am aiming to go sparkling water only myself. Watch this space for updates :P
On the adaptation of the meals:
Day 1 - I was super bloated, full and pretty much forcefeeding myself.
Thanks Kim, for the reference to Tejshree's blog.
TMI but the trips to the loo almost ate up my workout time, lol.
Day 2 - Better adjusted, still eating by the clock rather than appetite. Was grateful for the last fruit snack before bedtime, a big bowl of cold watermelon was exactly what I needed after my workout last night (understandable when you read the below part about the post workoutsweats).
Day 3 - today - I woke up hungry, finished up my breakfast by 6.30 AM at my desk while clicking away at those nasty spreadsheets and emails. By 9 AM I was done with my fruit snack (4 small plums) and watching the clock anxiously to check when would be an acceptable lunch hour because I was HANGRY.
I am not feeling bloated, but I know the vegetables will start the air expulsions soon.
My colleagues noticed me wolfing down my lunch aggressively at 11.30 and vocally expressed concern, I told them to back off.
Major WIN - said no to all passing cookies / turkish delights / snacks (am weeping inside).
On the Lessons - as usual they are well timed, small nuggets of useful info that applies to us everyday and for the days to come. I am playing sneaky with the stretches (reading the lesson was a reminder of why I need them even more) and I know if I don't start doing them it will not be pretty, but dang they take time.
On the workouts:
1. My trainer wants to continue his dynamic routines on Mondays and Thursdays and I think they do benefit me in many ways so have decided to get his help on things like Tricep dips if needed, but otherwise to use Mondays as a free cardio and to do 2 workouts on Saturday to make up for the lost day with Kenzai.
2. Skipping - I can go 50 without stopping on some sets and average 20 otherwise. If pick up the pace, I trip more so the key is to keep a medium non hurried speed. Last night my ankles felt a bit prickly so I stopped at the 4th set.
3. Post workout sweats - this is probably specific to the 200% humidity in Hong kong, but I came back around 8 pm from my workout and went straight into the kitchen to prepare my veggies (had run out of the previously made batch), I swear I perspired a liter of sweat out! This is normal if I don't turn on aircon, am usually drenched within minutes of coming out from a shower too. but the 30 mins in the kitchen made me feel like I was swimming in my own pool of salt.
4. The workouts got longer, I miss week 1 :)
So far so good, keep up dear team, am seeing your blogs and looks like we are all making efforts to start strong :)
---