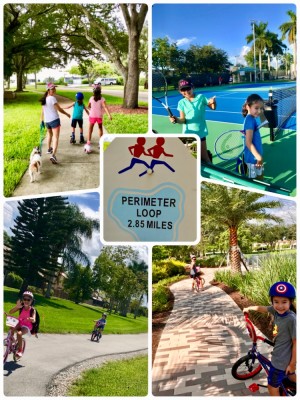 Day 2 was better. Meaning, it was brutal and I am sore all over! The lessons helped me plan and envision what the next 4 weeks should look like so that was very helpful. Also the sheets of subs are printed out and were used today. Even though most of my subs are on the bottom of the sheet in the Easy Section, I tapped out at 30 seconds on many of them.
So cardio. Extra cardio is what I will be aiming for and it's easy to do here in our new setting in Southern Florida. We live in a community surrounded by a 5km ring road. It is flat, mostly tree lined providing some shade, safe, with a sidewalk. It is very hot and humid now but the kids are at a tennis academy inside the ring road so I walked it this morning. Took about an hour. Had to recover from it as the heat was unbearable towards the end and did the exercises later in the day as the kids were in the pool and I can see them from our window. I think I will bike more than walk but this will be my weekday routine. Just gets tricky when my husband goes away on business.
Lots of chatter in my head regarding food so extra willpower is needed at the moment to dismiss them. I was about to cave but instead, I brushed my teeth! These small wins are a huge confidence booster.
---