Week 2 of Bells - In the bag!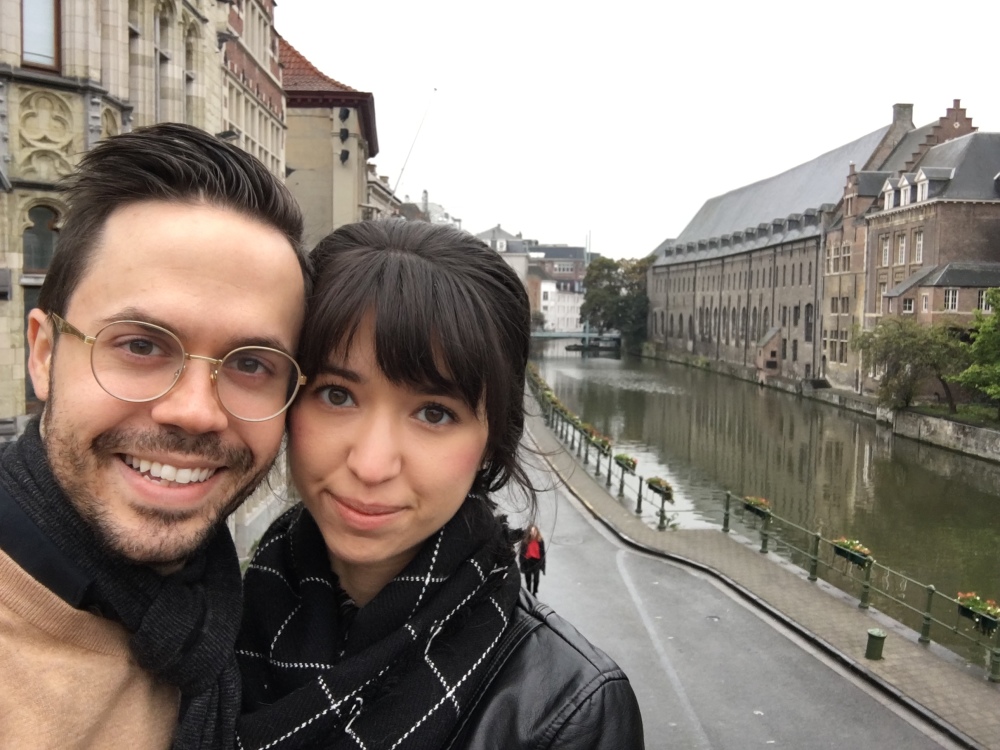 Things are going well. I'm not going to claim a perfect week, but it does feel good to be in a program and to have the structure that helps me take my health and wellness decisions seriously.
For my Bells and Run groups here are my intro questions!
1. Where are you from and what do you do?
Rochester, NY, USA! With my amazing wife Miranda and two furry children, Tulsi and Topper! I love being a Trainer for Kenzai, and writing programs as well (Kettlebell 1 and 2 so far! Here's lookin' at 3!). Picture is of us in Ghent, Blegium on our recent anniversary trip to Europe! Kittens couldn't come along sadly!
2. What are you passionate about?
I really love a lot of things, and I frequently fantasize about following a creative path that leads to a more self-sufficient, stay-at-home lifestyle. I'm an ideas man, so my biggest challenge is actually nailing what that path could be, down. Writing for Kenzai scratches that itch, but right now it's not a full-time gig, so I would love to explore just being a writer, podcast host, or honestly a board game creator! Something that exercises my creative muscles and is flexible and mostly home based just sounds so awesome to me. Miranda and I plan on having children of our own eventually, and to be home as much as possible to be involved in raising and teaching them is really something I would be passionate about!
3. What was the biggest turning point for you in your fitness journey that has led you here today?
After a belated graduation (high school) trip to Mexico (I was 18 at the time) I peaked out and spent about a year in my heaviest body, ~175lbs. It was a slow creep that came from transitioning to feeding myself as I became more independent, and not having an active or athletic background. Redbulls and Reeses peanut butter cups at work, almost every day, not kidding! So I was carrying way to much on my small frame (To put it into perspective, I have a fair bit of leaning out to do now and I'm at ~145lbs) , and I had very little muscle mass to boot. When I was 19 I stumbled across Patrick's blog at the time, and I knew I found what I was looking for to reverse the damage and actually get fit for the first time in my life. A year later I had completed PCP (Peak Condition Project, at the time, which later became Kenzai) as a part of the second group of trainees to enroll, and spent a month in Europe backpacking with a friend, something that was largely inspired by the confidence I gained from the process of getting in shape. While I still have yet to see my true "peak" fitness since then (~135lbs of muscle, and abs! haha), I've consistently been healthy and fit, and never backslid very far. It changed my life and here I am today!
Happy training to everyone out there and all my trainees in week 3! It's an honor to have this very special part of our lives in common with so many people around the world. :-D
Tweet