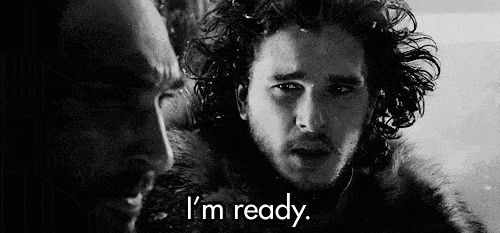 Alright. I'm no stranger to Kettlebells, but it's time I do the program I authored! Haha.
This has been along time coming, but I'm excited to go through these structured 6 weeks in their final form, from start to finish, as a trainee!
Off to a good start, my first 5 minutes of skipping went without a single trip! Which really thrilled me as I haven't touched the rope since before I did my KRun 2.0 program where I just stuck to the running! Got ~850 skips in that window.
Great to be training with such a lovely group! Can't wait to swing some lead with you guys.
I'll be camping 6/15-6/19, so I won't actually be bringing the bell with me. However I'm going to stick do a daily workout regimen and doing plenty of hiking! And I can do the workout at home before and after the trip on the 15th and 19th, so it's only 3 days without the bell.
Here's to a great program everyone!
gif from HBO's A Game of Thrones
---