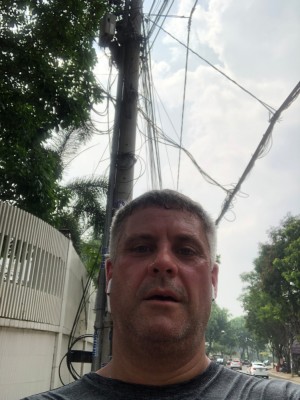 So the diet in Korea didn't improve, it's difficult to get fruit or vegetables (except Kimchi) which is quite surprising as in Singapore we quite often eat Korean Strawberries!
Landed in Ho Chi Minh at 1am due to a delayed flight, but woke up surprisingly early, and I love Vietnam so I dragged myself out of bed to maximise the day.
It looked like it was going to rain so I thought it would be an opportunity to get another City 10km in when it's cooler. So I did another 10km run, it did rain, for about 90 seconds!! By the end of the run it was 37 degrees..... but it's really flat so compared to Kore it was a pleasant enough run.
I've drank a lot of coconut water (coconuts are the size of medicine balls here!) and water so hopefully I won't have the same problem as I did in Korea.
It's really easy to eat healthily in Vietnam, lots of fruit and Veg so diet has been good today.
Here's a couple of photos, including the infamous Electricity cabling that looks crazy, but works!
---