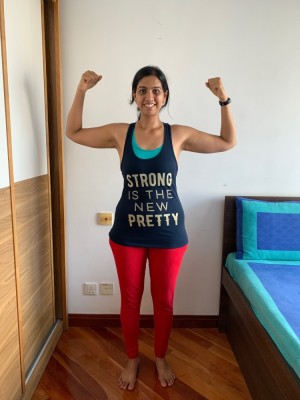 Hi Everyone,
I have a confession to make. For years and years, one of my secret fitness desires has been to get a fit and toned booty. Especially after having two kids and having put on some weight around the rear, I have been somewhat conscious of that area. Even sharing the beginning of the progamme photo, I felt quite vulnerable because I thought everyone was going to know what my bum looks like. But then with a little encouragement from my amazing husband, I realized it was time to own it, work it and rock it! :)
So on that note, here I am. My name is Nidhi. I am an executive coach, keynote speaker, writer and blogger with an eternal zest for living life fully. I live in Hong Kong with my husband Kush (who is currently doing KB1 and rocking it) and my two little kids (5 and 2). I am from a city in India called Ahmedabad and that is where my heart belongs.
I have been fit and trim most of my life. I went through two cycles of gaining weight and losing it, during the birth of my two kids. These cycles have also taught me body acceptance and body confidence. And so, even though I was lighter and slimmer before kids, I feel more beautiful and confident now.
And I am committed to keep working on my fitness, keep gaining stregth and keep becoming the fittest, healthiest and sexiest version of myself!
On that note, adios for this week. Will be back with progress notes soon.
More power to us!
Nidhi
---