1. about my life...
Hey everyone, Nik here. I live in Singapore. I live here with my wife although she is away on a nursing break right now. I was raised in India and have been around the block in this part of the world for a while now.
2. Tell us why you're doing Kenzai body...
Any specific goals? Why now? What will success look like for you?
I started the journey of getting back to fitness almost 18 months back. I have managed to come down from almost 98 kgs to 85.x now. From here, I want to accelerate and build on the momentum. My goal is to get under 16% - 17% body fat over a year. Excited to put in the first 3 months with you all.
3. A problem shared...
What obstacles do you anticipate to succeeding in this program? How will you navigate these?
I travel a fair bit for my work. Even when I am in Singapore, I don't cook at home all that much. Eating right and eating weighed proportions is going to be a challenge. I am not quite sure how to navigate that one. I am looking forward to learning how others are coping/ have coped with this challenge
4. What question would you like to ask your team mates and/or trainer? (Answers in the comments please!)
Knee pain ( the same as I asked in my first blog) and diet compliance whilst traveling. Anyone else facing these challenges?
---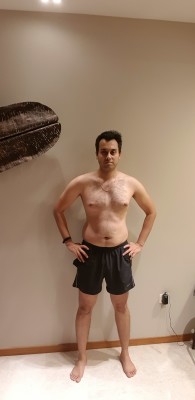 Hey there fellow almost fit humans. The first four days have been very interesting. I have enjoyed reading the why and appreciate getting in the rhythm before we really take off.
I never knew skipping ropes was this much harder than a treadmill. Man.
Btw, I am facing a hard time doing the squats with some pain around the knee. What is an alternate exercise that I should pick up?
---