An old friend bites the dust!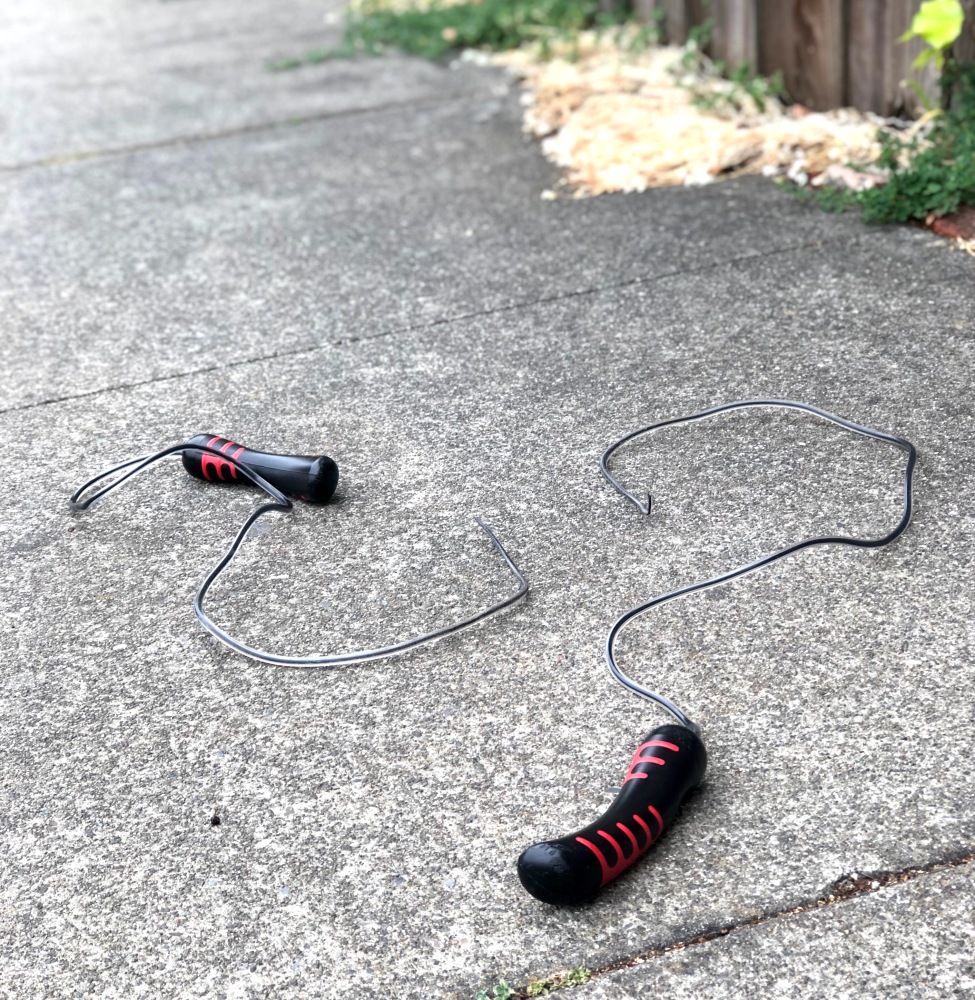 This week my trusty rope finally broke in half. It lasted 5 years. But since we moved and I started jumping in the street it's been taking a real beating. My former jumprope spot was a wood deck which barely caused any wear at all. Another thing to keep in mind when you choose your jumping area.
I still like these handles so I'm looking for sources of new ropes to bring it back to life. This rope is no longer in production and it has a special weighted middle core. Jumping with too light a rope (the actual rope part) is extremely frustrating to me. I've gotten so used to slicing through the air with this heavy one that everything else feels like I'm stuck in 1st gear and totally jams up my timing.
I know with practice I could get used to my lighter ropes, but I don't WANT to get used to them as the heavy rope works so well for me.
I've been subbing in running for the past few days, which I can't really do with the cycle cardio system. I guess I could run hard for 2 minutes, turn around and run back hard for 2 mins for a four minute cardio. I'll try that on Monday!
Training is good. Diet is on point, no workouts missed, and many days getting in extra cardio in Aikido and cycling now that the weather is good. Some days the big 35 pound bell actually feels kind of light, which is a great sensation. But the next day it's back to being heavy! Weird gravitational effects. Training in spring is pretty great, as you follow the natural coming-back-to-life of nature in your own body.
Some cool things:
I was having a lot of back and shoulder discomfort due to long hours working on the computer. 3 weeks of bells and all those aches are completely gone. I'm standing tall and even when I have a long day on the computer I feel fresh at the end (at least my back does). It's an example of what I've noticed with so many people, the solution to chronic, non-injury related issues isn't to stretch or take it easy, but to get some muscle on the weak areas and create an environment where the musculature realizes it needs to shape up and stop slacking.
I'm getting super strong but not feeling my range of motion impeded as I have with other weight based programs. The range of motion needed for the kettlebell moves is really helpful to avoid muscle-bound lockup.
Soreness has been extremely light on this program. It's good to not spend the day waddling around on sore legs or wincing every time I raise my arms. But results are good.
Tweet