Run 19: Bug Choke Run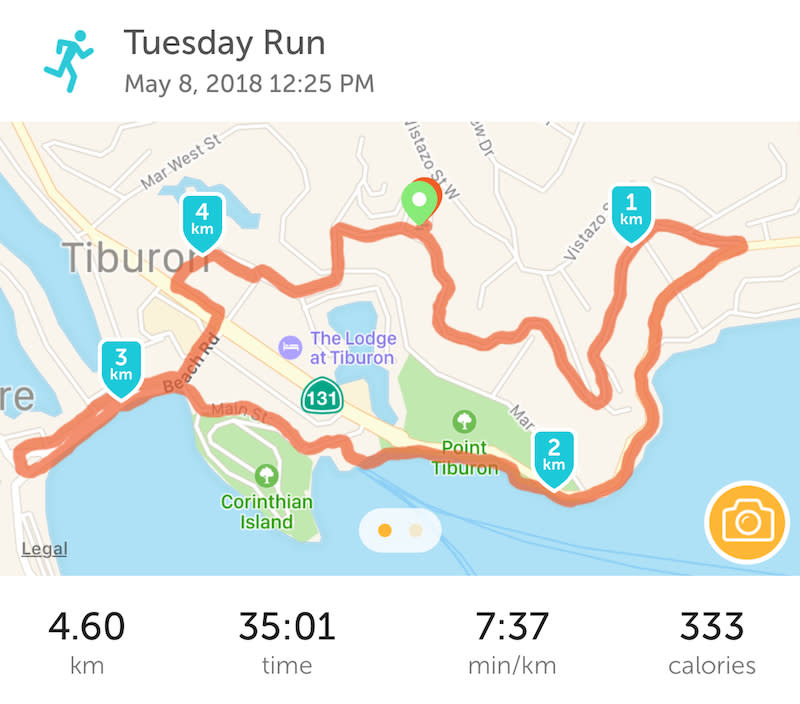 This was a real low point. From the first minute of this free run I knew I was in trouble. My calves felt like someone had replaced the muscle fiber with those thick elastic bands they wrap broccoli with. Losing calf flexion suuucks, you have to recruit all kinds of weird ancillary muscles in the foot, groin and thigh to get the leg where it wants to go. So I dealt with that up to the top of the run's elevation point.
Then came the ultimate insult. I try to steer clear of people during outings, no one deserves to see the crimes against running that my body displays, but there's one section where I cut through a shopping street. As you can see from my running time, it was about 12:30 and a nice day, so all the cafes and restaurants had people seated outside enjoying themselves. Well, right in front of a busy restaurant a bug flew into my mouth (not hard since when I run I usually look like a freshly caught catfish confusedly sucking down air as the life drains from it's soulless eyes). So I can feel this thing buzzing around in the back of my throat, I kind of grab my neck like I'm choking myself and start coughing and spitting on the sidewalk. After about 5 hacks the bug comes out and I spit a few more times, and look up and there's like, 14 people staring at me from their tables - some in disgust, some trying not to laugh.
I'm still freakin tired from running, so all I can manage is to lamely say something like "I uh... bug... you know..." before scraping up my dignity and running away.
Add it the long list of reasons I'll keep waging my vendetta against running! Who thought up this program!? A sadistic madman that's who!!!
Tweet