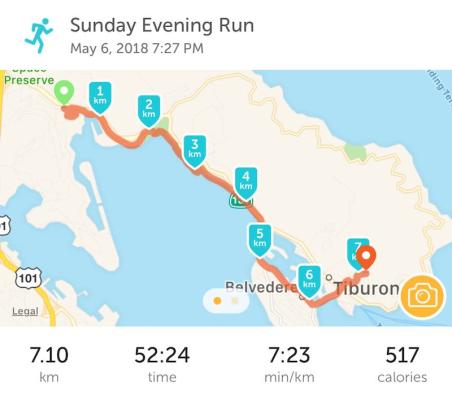 All day Sunday I kept putting off this run. 5km I can deal with, my brain can just rationalize it as "about a half hour of running". 7km is getting scary. It's not just a jog it's a run. Meant to do it in the afternoon but miraculously found a dozen other things to do instead. Yes, of course I need to organize the art supply drawer. Of course I need to answer this email. Of course the car needs to be vaccuumed. Of course I need to play Xcom2, after all, I did all that work in the afternoon!
Anyway, it was getting to be sunset and I hadn't gotten this run in. We needed to go to the supermarket, and I had a stupid idea on the way. My wife and daughter could just leave me by the side of the road after shopping, 7km from home, and I'd just run home. Of course I was wearing a button up collared shirt but that wouldn't be a big deal.
So like a Christmas puppy that no one really wanted, my wife pulled off the road, opened the door, and kicked me out onto the sidewalk miles from home. "Good luck, you'll need it," and the sound of tires pulling away. My daughter waving from the backseat and laughing at the sight of me.
I started running - lots of strange looks of this guy running around in regular clothes. I guess there were a lot of runners getting their end of weekend runs in, cause I got passed by people not just once but as they completed their round trip and were heading back. How is everyone so goddamned FAST? This one guy passed me and in like, 30 seconds was a speck in the distance.
It was a long tough run for me. I kind of blanked out and lost time at several points, only coming back to my senses a few hundred meters down the path. If only I could go into a fugue state the entire run. After FIFTY TWO freakin minutes I made it to my front door. My daughter says "Oh hey you didn't die" before going back to her iPad.
I don't even want to think about the 8km at the end of this week. Maybe I'll get lucky and North Korea will nuke San Francisco in the next few days.
---