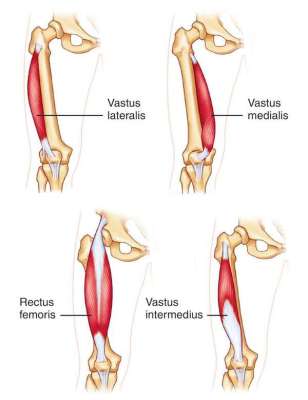 If you're like me, that first run left a little soreness on the lower attachment point of your quads, where they plunge into the knee. If you're feeling this you probably ran downhill. Soreness is the result of microtears in the cellular structure of muscle fibers. Studies have shown that the single biggest exercise modality that creates these tears is when a muscle has to strongly contract while bringing a weight to a stop.
For example if you catch a heavy medicine ball a few dozen times, each time you catch your biceps are flexing as they bring the balls momentum to a stop. This will make you sore as hell.
In running, when you're going downhill, the quads activate strongly as a brake each stride. Your quads are essentially pushing your bodyweight back up into itself so that you don't fall down the damn hill. This stresses the tendonous fibers that attach to the knee, (where the lever force is strongest) and rips up the fibers reaaaal good. You can see this as the white fibers in the attached image.
The next day you're sore all around the upper part of your knee. It's not your knee, it's the white tips of your quads!
So that's what's up with that. Just another reason running is misery. Good nutrition and sleep is all that can save us now, and even then only for a few brief years before the ravages of time reduce us all to frail husks of what we used to be.
So that was Day 3.
---