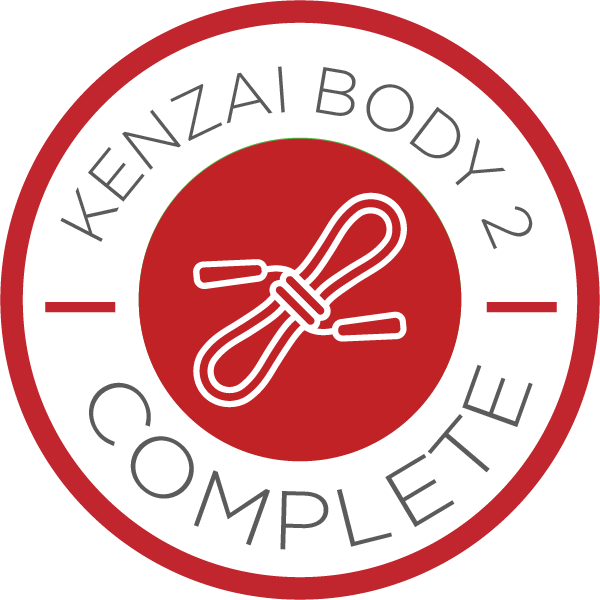 A Very Open-Hearted Close
GRADUATION POST
What a run! Or skip rather! Congrats to All! How about that Circuit to crush it all to a close today? I saw the 1000 jumps (I was on the phone with my sister at the time and she said: "1000 jumps? That's impossible!" ha ha I replied: "No, that's Easy!") and was so psyched to roll to the gym... I read some of your closing posts prior and was smiling wide. I'm working that circuit training into my life, no doubt about it. My sister Deb is also seriously considering getting on board.
I proudly give myself an "A" for all my efforts in KB2! I'll say this about it -- it's an awesome program AND IF YOU MAKE IT A PRIORITY IN YOU LIFE it's not even hard. It's not hard, it's not easy, it just IS -- and it IS truly awesome. The easy ramp up, the exercises, the lessons -- I was going to google "What to do before a body photo shoot" and VOILA - that very day Kenzai provides. If I had a nickel for every time I've told someone over the last 90 days -- "It's spelled K-E-N-Z-A-I and it means like 'Optimum Health' in Japanese" -- I'd have a lot of nickels, well over $1.50 I reckon.
I want to thank each and everyone one of you for your commitment, your effort, and your blogs. I think a special thanks needs to go out to Capt. Dermot, who I actually gave shit to at one point, saying 'Don't these people have something better to do than blog all the time' ha ha! My bad my brother! You made it an unshakeable Habit and you inspired us all. A special thanks to his sidekick and fellow Ass-kicker Mark, who also kept it all on course for me. Sid provided some comic relief, many thanks! To Bill, Michaela, Deb(!!!), Brent, and Rajkumar, a deep bow. And to Lissi, we've missed you, as you were a Force and seem to have gone MIA the last couple weeks. Hoping all is OK for you and hope to hear.
For me, the take away of KB2 is Total Lifestyle Transformation. When I completed KB1, I was happy with the results, but a bit shaky and unsure afterward (I've seen many folks express this). What's next? Will I be able to maintain this? Will I, sadly, like Thomas mentioned in the closing vid., look back one day and say, "Man, remember that thing I did... etc."? The buddy who turned me onto Kenzai has regained every pound, lost all ground, and now even has worse knee problems, looking at surgery. My thought setting out was that I MUST do this for at least One Year, that's the only way its going to stick. God bless me, my year isn't even up yet (Feb. '18), and I KNOW I won't be falling off any wagon. It's just too good and too damn empowering! My body gets me out of bed every morning of course and I'm really grappling currently with an entrepreneurial endeavor that I have the highest hopes for. But the body that gets me out of bed now is so strong and looks so good, as soon as I catch my reflection in a window or a mirror, I'm smiling, I'm so Happy, and I know that Victory will soon be Mine, "Victory at all costs, Victory in spite of all terror, Victory no matter how long and hard the road may be," to quote Churchill.
Lastly, many thanks to Thomas, Miranda, and the Big K-ahuna Patrick. Merry Christmas and God Bless you All. See you in 2018!
Tweet