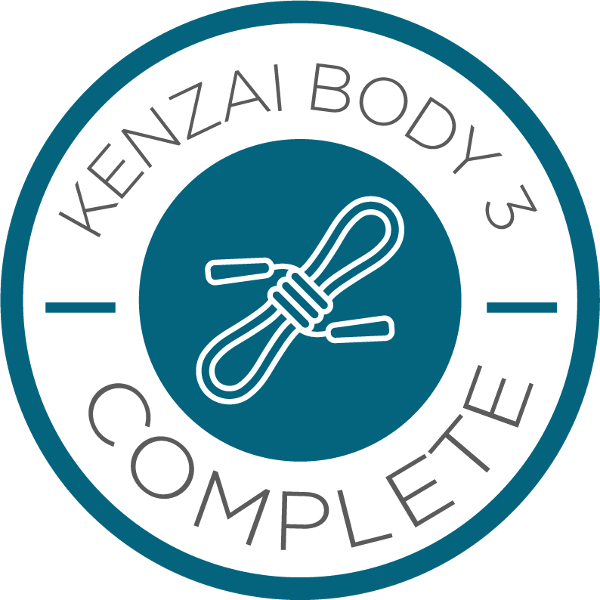 Getting KB3 COMPLETE
GRADUATION POST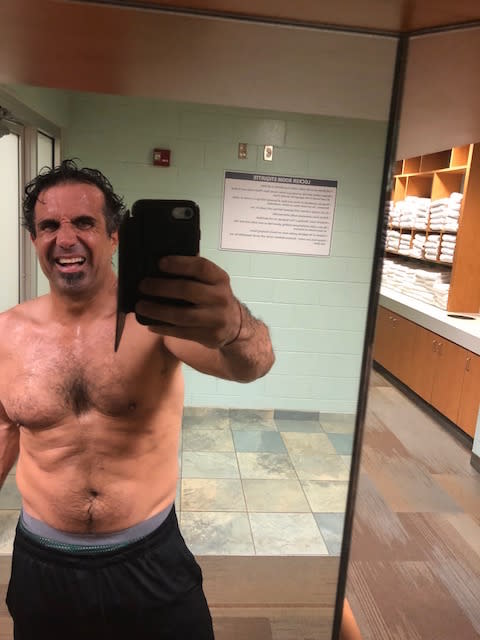 Team Calypso! Where have you all disappeared to? Are you guys all out for pizza and beers? There must be a blip in the system, perhaps because I've been a little delayed in getting this Grad Post up and out, but I can't see any of your pics or posts right now. Alas, Deb, Jonathan, Peter and crew, Congrats to all! KB3! Just a few sentences away from being Complete! Quite an accomplishment to make it all the way through -- I'll display the badge with Pride.
I feared KB3! I did. I overheard one trainer referencing it in KB2, saying its a "Brutal Commitment". It was! It was hard and there were times I was pissed... but you all seemed to echo the sentiment in your own ways, so that helped. I liked Ward's post today on leaning into or maybe a little past your edge, extending it. "Embrace the struggle. It will get easier." That's what KB3 did for me. It pushed me to an edge I didn't particularly enjoy. This is me all smiley and happy right when I hit the locker room after the final 100s workout... but 15 minutes later I was depleted and throwing up in the parking lot. OK, I'll admit I kinda liked that part, just the way it went down, or up rather, it was... warrior puke. Not that barfing is noble, but what I mean is there was Kenzai again coming through, because when I did that final workout I felt weak, I felt humbled, and yet I felt like a whole new possibility opened up. I'll do that workout again.... We'll see.
That said, my dodgy paunch persists! And I like many of you have expressed don't quite have the results I'd hoped for, only because 4th of July hit and I was at Wrigley in Chicago watching the Cubs beat my Detroit Tigers, with Beer undoubtedly involved. I bounced back a bit after the Holiday but the closing weekend of KB3 was my Mom's 89th Birthday party, with 30 relatives at my farm and some of the best Polish food around - made by this Polish woman named Maria who owns the Lonestar cafe out on M-43. So I wish I would have made more of those last two weeks but staying on diet around day 80 was super tough, harder than I'd planned. Ward warned me that I'd see people fade, and I vowed I wouldn't, but I did (sigh).
To spin it all to the positive, I give myself an overall A- for my KB3 effort, as I left some things on the table... but I'm simply going to go after them now. My experience with completing KB1 was that I knew it was just the start of a foundation, that I needed way more than just 3 months, maybe a year of this more elevated training, the body quickly returning to its former state. Run programs and Reach were cool, but I LOVED KB2. It was more more middle of the road, not as extreme, easy ramp up, with great results. HOWEVER the Holidays hit soon after, and I was spending time at some of my favorite breweries, like McFate's in Arizona. All that said, I'm glad I've done KB3 as I needed to and I'm glad it pushed me to a new edge, with some new Negatives and 21s techniques, because now I can keep up the intensity but with a bit more balance. And I really want to keep my elevated growth UP rather then succumbing to a post program indulgent diet. Not happening. I'm taking a few days off and working hard for another month to close out the summer strong.
Of course, winning the award for best indulger, I HAVE enjoyed some Confit Duck Wings with fermented chilis and crushed peanuts, along with a Smoked Sazarac cocktail of bullet rye whiskey and absinthe mist. But I'm back at yoga this weekend, back at the gym next week AT LEAST 3 times a week to maintain, and hoping to jump into Chisel - which I've heard great things about - or a Reboot next month, with an eye toward Iron or Kettlebells before the year is out, if I can swing them, and I'm sure I can. Thanks to all for your dedication to your own well-being and for being a part of a rare group with 9 whole months of Kenzai Body training. Thanks also Always to Ward and also to Jenny, who I thought of when I raised up a sweet 5-ounce "Your Mom on French Toast" nutty Porter. Cheers to All.
Tweet