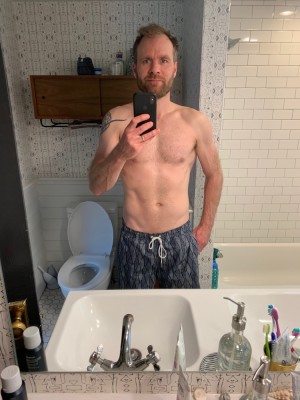 Deeply satisfied and relieved to be done with this round of Chiz. This was one of the best groups to train with- high energy, a ton of familiar faces and dedicated teammates throughout. Scott was a great conductor and all the encouragement is greatly appreciated.
This was also the hardest round of training I've taken on. Combined with raising a 2 year old, a stressful season at work, an invasive home reno that I've tackled largely myself as well as 6 weeks of griding through Chiz- I was dusted. It was just too much.
I was unable to give any of these facets of my life the attention that they deserve and I was often ridden with guilt- Not spending enough time with my family, missing a workout, spacing a deadline, cutting a corner on the reno cuz it was midnight and my tanks were empty..............
I got the result I deserve- I'd call it a solid B. I know I can do better, but under the circumstances, it was the best I could muster. This is one of my favorite programs and I'll surely be back when I've got less on the home front and can really get after it.
A highlight for sure was an impromptu group workout with a lot of the PWM gang on the penultimate day of the program. Thanks to @TuckO for organizing. This was just the boost I needed to get over the finish line. To my cyber teammates- It's been great to train with you all. I wish you the best and hope summer (or winter for any of you southern hemi's ) treats you well.
I'm going to take some time to recover then spend as much time on the mountain bike as I can for the next several months. Plan to incorporate a lot of KB ME over that time and might give REACH a spin, sans strict diet. I plan to be back on program for September- what are ya'll planning??
Solid Work Team!
OUT
---