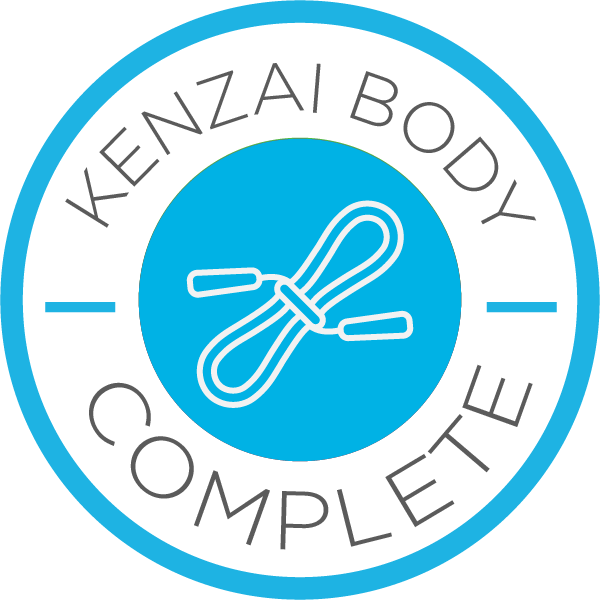 This is our last blog, meant to record our sense of achievement after 90 days of regimented exercise and diet, but that's perhaps the wrong way to look at it. It's been 90 days of discipline and of self-awareness. Of learning once again, almost like when we were kids, of how much the human body, and the human mind, is capable of. Of how little we actually use our potential, because we choose to limit ourselves within that which makes us comfortable. 

All our lives are busy – how can one possibly get in exercise every day, without fail, building up carefully as guided, day after day after day? Few of us have the time to manage a diet, and many of us find comfort in food, in meals, after long hard days, or grab what's available – burgers for example – when we're on the go. And then you realise – as any of us who signs up for PCP (now Kenzai) does, that we can do both, manage the right diet and regular exercise, AND come out stronger and better physically - and more aware of our own strength of willpower, then we have ever been.
Our 'gurus' teach you many things, our peers and team-mates equally so. You learn expertise and wisdom from the first group, and commitment and ideas from the other. You can't do without either on this intense journey. But as I have said before, Kenzai is what you make of it. You are shown a path, you are 'in the limelight' with everyone else, making it hard to 'bunk' it. But we have to walk it ourselves as individuals – and those that will come after us will do so too. So, for anyone doing the Kenzai Body programme now, the onus is on you – as it was on us in Pegasus between July and September of 2013 – as I said, as individuals, and as a team – to get to where we committed ourselves to reaching.
For those that commit fully – I would direct you to my friend Yasmeen's blog – to see the possibility of true physical transformation. For those who need help when it becomes really tough, read carefully the lessons the Kenzai team puts up, and I would ask you to visit my teammate Scott Burns' blog of September 24 –pearls of wisdom there, that we all nodded our heads in agreement to. And then, I would ask you to visit anyone's 'Complete' blog in Pegasus – I've never noted anyone not benefitting from this great programme – how much, however, depends on you – very much like life, only that luck plays a part in life, but not in Kenzai :-). As I have said earlier, I couldn't commit fully, to my own loss, but what I have gained is tough to describe – in inches and weight, sure, but that's a smaller story. It's my own sense of finding time for 'me', of feeling real freedom in exercise, and of choosing this as a way of life. Which is why I cannot, for the life of me, say I have completed PCP or completed the Kenzai programme. What I will say, is that I am now 'in the PCP mode', Kenzai for me will be how I will choose to live, and it would not have come to this without these three months.
So all you newbies in Pearl, and everyone who will come after Pegasus, we have been there, and you will be here. It's as easy as that, step by step by step. Just stay the course. It's the RHYTHM that is key, that's what our body needs. 'Getting into the groove' has acquired new meaning. This Sheila certainly got her groove back :-).
In a nutshell, I'm pleased as punch with me now. And I'm pleased as rum punch with where Pegasus as a whole is. What a journey – and my dear Pegs – PLEASE let's touch base on the count of our individual fitness goals, say, a year from now, tougher, stronger, better! To Patrick, Sarah, and Ward, a BIG thank you – not just for Kenzai Body, but for your humility and patience with so many of us. I hope you will always keep this spirit – you are living the dream, with Sarah back in Re-peak, though I hardly think she needs it (11 minute plank!!!!), and with Patrick defining exactly how much in your own control your body can be – when he started, all the training videos show him so fit but muscled – and you can see in later videos how he would have made the shift, whenever he decided to – to being fit and muscled AND lean. It's a sense of purpose, of control, I can only hope to emulate. Thank you both, and thank you Ward, for the very kind occasional post and query responses. And Navi, this wouldnt have happened if it wasnt for you taking the lead, for believing that fitness is the ONLY way, and for bringing PCP into our lives. Thanks hubbs!

Till we meet again, Adios amigos, with two fat hugs each.
A long PS for whatever it's worth, from the uniqueness of my own circumstances (each of us will have unique contexts and I'm feeling good enough to spout some for those yet to get into/complete Kenzai!): First, if you're vegetarian, as I am, - AND you dont drink, as I dont - not much will change in your diet, you will eat more than you normally do, and not much will be taken away from the table (unlike for those who eat red meat or enjoy their wine).  So you might wonder what could possibly bring dramatic change? Well, the trick there is in the portion sizes, but even more, in the REGULARITY of food intake. You don't know how valuable that is till you see that despite so much food, tone and definition comes up, and weight comes down, relentlessly, happily so. As I said, rhythm.
Second, for those of you who run busier lives than most (we all do, just that some have a wider set of commitments willy nilly in certain phases in our lives – like me at the moment) - when you pick Kenzai, try to make time for it by emptying out the rest of your schedule before you sign up. If you can't, as I couldn't, then know that it will be very hard to stay the course and you need to be prepared to work double hard, to inconvenience yourself seriously, to make it. Don't expect it to be a breeze, you will need 1.5 hours for exercise by the time you are in your last month, and you will feel totally exhausted on certain days. So be prepared so you dont make excuses to yourself.
Third, if you have any physical ailment – like I have a weak back – the worst thing you can do is feel like you can move mountains (because you will feel like that after 2-3 weeks), and become careless with the exercises. Concentrate as you exercise, and 'listen' to your body. Write in to the trainers, they know their stuff and will tell you what to do, if something isn't feeling right. Don't ignore it. I lost 10 days as a result of trying to be smart.
---