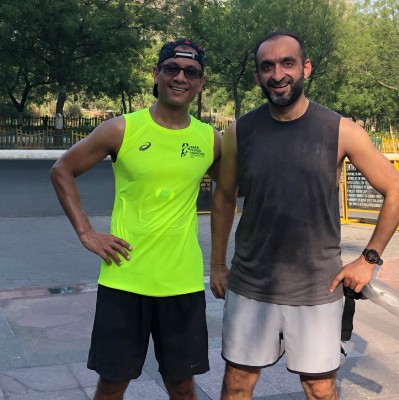 Hey folks I'm happy to say today i accomplished my self target of running a half marathon nearly a year after my knee surgery in July 2018.
The time just before and upto 4 months post surgery was depressing not being able to do any real exercise.
Post the prescribed rehab prog by my doc, I've done reboot twice to get back general fitness along with a lot of leg strengthening exercises. Continued this with Skulpt for further strengthening of the posterior chain and legs. Finally started blast 3 weeks ago to burn some fat!!
All through this I substituted the skipping with running as my alternate cardio starting from Kenzai 10 k first and finally ending with the Kenzai half today.
Running is my passion and I am just so happy to sort of back to it. I cannot thank the folks at Kenzai enough who as you can see above were instrumental in getting me back!! And to some of the other trainees who constantly inspire to get workouts done and tread on despite issues that crop at work, family etc etc. Love you guys !! Thanks a tonne !!
I was saving my 2 tickets for my family holiday starting Thursday next week onwards but I'm tired today and will use one of them today.
As far as blast the past week has been good. I've been dedicated to the program workout wise. Diet B plus. Going to stay totally to program until Wednesday and as best as I can once the holiday starts.
Take care folks !!
Attached is a post run photo with Ironman and Kenzai veteran Nikhil K.
---