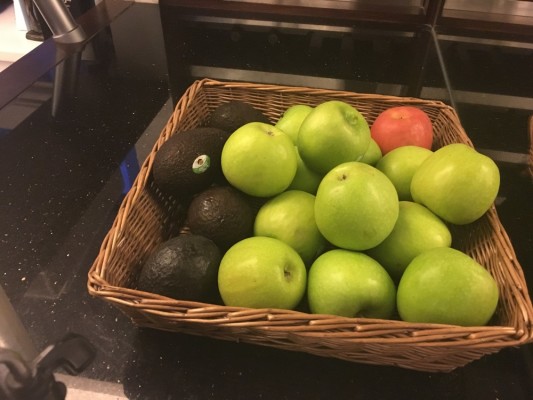 With both me and my wife doing Kenzai and on apple dinners, this is what our fruit basket currently looks like! Anyone seeing me load up on that many apples at the supermarket must think I am making an apple pie. I wish!
With my back still on the mend I have taken to walking repeatedly up and down a steep set of stairs (350 steps x 3 sets, soon to be 4) for my cardio. Given the leg exercises of the last 2 weeks, this has caused some very painful calf and quad muscles. They have settled down now. Its not jump rope, but I do get a good sweat up. I am able to do most of the strength workouts, aside from a few (mostly the abs) which put too much strain on my back. My physio has given me some core (inner abs) exercises to do, so I substitute the KB2 ab exercises for those (although I did manage to do the turbine this morning and might give the plank a go when it next appears.
Brett asked us to blog about positives. While the back has been a negative, there have still been a lot of positives. Despite not being up to doing a full workout at all since the program began, I am still seeing a lot of progress, in both my pictures and with clothes fitting much better - one suit which was quite tight when I started is now actually quite loose! I guess it really is 80% diet!
The other positive has been doing this with my wife, Sheila. We are only recently married and the last 6 months have been one long indulgence (which affected me more than her given she has a great metabolism). Its great we have been able to support each other throughout the program, which has made things easier for both of us - we know what the other is going through. I had not even met Sheila when I first did Kenzai, so it has been an easier experience for me this time (also, I guess I know what to expect now!) That said, when one of us slips we both slip (case in point, a glass of wine and some oysters last Friday night just so we could feel normal for half an hour!)
My resolution for the remaining 45 days - blog and comment more often! Lets go team and nail the remaining 45 days!!!
---