ghost in the machine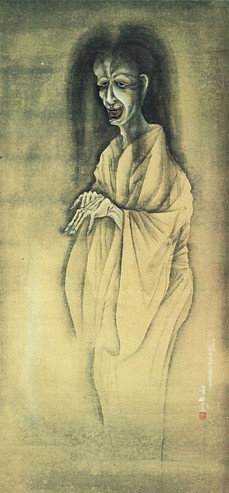 Spent the past 3-day weekend at a zazen retreat. Hadn't been in a couple years (trivia fact: I first met Patrick on a zazen retreat like 10 years ago!) so it was nice to get back into it.
This time we went to an active monastery; there are 20-30 monks living in the temple who are happy to take guests who can experience a slice of monastic life for a weekend.
I've written before about mindful eating, so I won't rehash that here. But I do want to share an awesome story one of the priests told:
Ghost Story
People come to the temple all the time and say "I have a friend" who's seen a ghost or something (it's always a friend or relative, never the person asking me) and I get asked if ghosts are real.
And I say: of course they are!
Most people are surprised by this. So I explain: ghosts have been part of folklore for centuries.
And in the Meiji period (1800s) they formally defined the 3 characteristics that make a ghost:
1) long, unkempt hair
2) arms out, hands grasping
3) no legs
So what does this mean?
Well, long unkempt hair is a longing for what was, or what could be. Disheveled because the ghosts just care about regretting the past, or longing for the future, and don't care about what they are doing here and now. They can't even see through the hair falling down in front of their eyes, the pine and are a mess.
Grasping hands, trying to get hold of something. Anything. Everything. Attachment. Wanting. Needing. They can't let go. You never see a ghost with her arms behind her back, right? They are always reaching out for something, trying to attain something.
They cannot see their legs, they don't even HAVE legs. They are aimless, unrooted. They don't know where they are, where they are going. They wander or float, seeking without knowing, in ignorance, no foundation.
There is a saying in Japanese: "kyakka shoko", which literally means "look at your own feet". See where you are, be grounded here and now. Before you go off chasing or searching for something else, somewhere else, know where you are HERE and NOW. Stand firm. This also alludes to the necessity to take the time to do things right, to prepare. Are you wearing your shoes, laces tied? When you come home, do you leave your shoes a mess in the entrance hall, or do you straighten them out, nice and neat, ready to be worn again? If you don't even have 3 seconds to straighten out your shoes or tie your laces, how can you be ready to go anywhere, do anything?
So I think there are many, many ghosts these days. People who long for the past or wish for the future, people who grasp and hold onto things and cannot let go, people who are going somewhere but really nowhere, and don't even have time to look down and see their own legs let alone be sure-footed.
So yes, ghosts exist!
Tweet