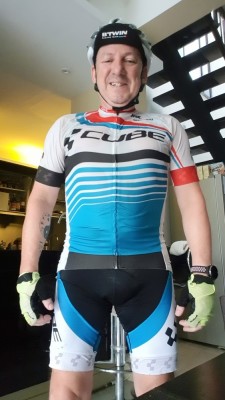 Having had a great Easter weekend with lots of rides and good food, I wanted to start the week well.
So off for my usual 30km ride this morning and felt great for doing it.
Today's workout felt really good, I deliberately stood further away for all of the resistance band sets and made myself work harder, the extra reps are definitely working too.
Took my end of week 3 photo this morning and I feel there is a distinct difference, particularly comparing week 1 and todays pic. I believe the tummy is a little less pronounced and my face looks slimmer. Well that's what I see, hoping all moving in the right direction.
Sophy & I had our veggie delivery today so lots of prepping to be done over the next day or so.
Great meals today, including rests from yesterday...
Brekkie - Wholegrain toast with smashed avo, mushroom, peppers and spinach plus chobani dressing and a bowl of plain chobani greek yogurt
Lunch - You guessed it... Thai basil pork, brown rice and steamed peas/corn - no extra egg today
Dinner - Tiger prawns stir fried with peppers, zucchini and onion with chilli, garlic and ginger (tiny bit of sesame oil for stir fry in wok) Delicious
I added a pic I took whilst on my ride this morning, sunrise as seen from Tannah Merah Coast Road at 6:37am, taken whilst cycling at about 36kph, I love a challenge
Hope everyone is starting week 4 well
---