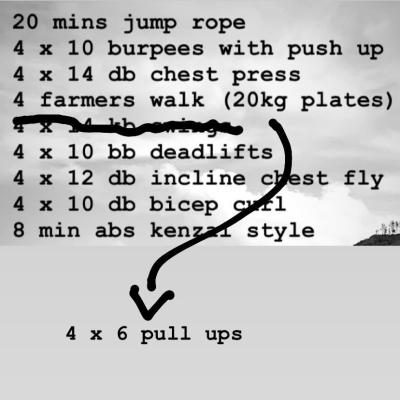 Finishing blast has left me with that - "OK what next feeling". We've a good 5 weeks until we leave for Greece in July so it is almost enough time to have jumped onto chisel or one of the kettlebell programmes. But to be honest I'm a bit programmed out and need to transition a bit to "wanting to eat good and workout" from "I'm on a programme so I have to". I've managed to keep any weight off since finishing blast and have had 1 G&T since so have kept a tight reign on things.
I'm wanting some flexibility in my workouts and invested in some gear from decathlon a few weeks bench (weight bench, barbell and dumbbell set) so keen to mix it up. Hence I have the makings of a plan that I've been sticking to:
Mondays = Weight bench workout - see above - chest focussed as that's what I want to work on for the beach
Tuesdays = Blast workout - picked at random from the last week
Wednesday = Bellz 2 Workout focussed on mobility and shoulders
Thursday = Weight bench workout
Friday = Chisel A
Saturday = Weight bench workout
Sunday = Chisel B / Cardio
The key is to do all with 8min abs everyday and if I need to shorten the workouts due to time constraints in the week then I can but the 8min abs is a non-negotiable.
Food wise - the Mrs and I made an agreement that there's no cakes, sweets, snack junk, drinking going on unless we're with friends which should keep me a bit more honest and stop the occasional ferry drink or bag of chips creeping in. I'm keeping carbs out of my evening meal but having a protein shake straight after the workout.
It's a great plan if I can stick to it - let's see how I get on.
So today I did a blast workout (Day 23) - bloody hell those workouts are hard.
---