Completed!
Program progress: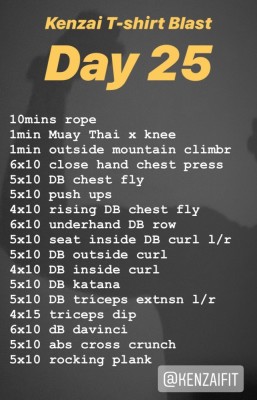 Wow wow wow
Day 25 and 26 with only a sleep in between us called pushing yourself hard - sitting on the ferry now totally ruined - can hardly hold the phone to type - LOVE IT!!!!!
So last night 74 min extraordinaire is show above - I kept the pace up and seriously it would be easy to spend 90mins doing that workout. I'm saving it as it was one of my fave K workouts EVER! So tough - like the sticky bandit. Just wanted to cry at the end.
This morning's "light" workout was just not that hahaha.
Fish twist for the win in today's stretching - my form is just so not as flexy as The Fish himself.
I decided not to repeat T shirt on Monday. Options on the table are: 1. Beach Body aka Watson's whiplash ( T-shirt and Beach Blast) 2. Chisel OR 3. A new KBMe which will be elements of Beach TShirt and Run. I have a hill race on Oct 6 so the latter is starting to make more sense.
---