Day 62-63 & that naughty little voice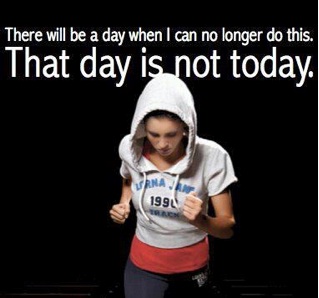 I almost did not work out tonight. I suddenly felt so tired, sleepy at 7pm during a meeting. I had to shake myself up to have a proper conversation. I managed to get out of work just before 8. Little voice was telling me to skip working out tonight since I am too tired, jet lagged and need an early sleep. I had to really fight hard with naughty little voice so I compromised to do cardio day (Day 63) instead so I skipped 4 x 5 mins. After fourth set, my body wanted more (such a weird feeling to be so pumped up!!!) so I checked out Day 62 and started working on my back. Long story short - I completed day 62 & 63 + 8 min abs!

The only thing I did not manage to do was side captain's chair. The bar i am using at the gym was just a bit too high and dangerous to do it. I am too afraid to fall. I wonder if there is an alternative exercise for this? I have to tell you, I have no dining chairs at home. I know. No chairs. Instead normal captain's chair was embraced tonight. The lesson on abs made a big difference on the way I think about v sits and captain's chair. I no longer moan in doing this, I simply just get on with this two thinking this will help me get the result I want. I am trying to work on my relationship with my abs and hopefully it will love me back in day 90.

I am so proud I did not listen to naughty voice. My small win tonight. Roarrrrrr!
Tweet