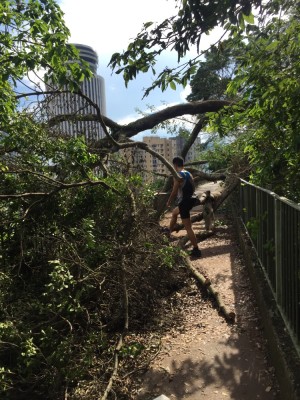 Third week was not a great week on the diet front. I have been feeling stressed out as it is end of the quarter. Nothing to worry about but for some reason I always have this anxious, jittery feeling every end of the quarter. I had a few glasses of wine last Friday with gfs I haven't seen in ages. I felt down coming back home after having drinks. I felt really bad for drinking only on my week 3 and for letting my frustrations and cravings to win. I had to pick myself back up on Saturday. I ate clean and gave every rep a good burn over the weekend. The whole body was sore yesterday.
For cross-training, I did a 30 minute run on Bowen Road. I am glad I did that run even though I had to duck and dodge all the trees on my way (post typhoon). I always need to remind myself to keep moving forward even though I feel day 90 is still far away. I need to break that barrier in my mind and to stay focused with my goal.
Regarding weekly question, I can lose track of time when I am cooking. Cooking for me is like my meditation. I enjoy the whole process from grocery shopping until the very end when I know I have created something tasty.
To my KB3 team living in Asia, Happy Mid-Autumn Festival!
---