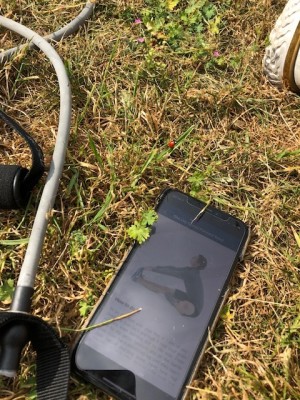 1) The Basics: Where you live; What you do for work and/or play.
I'm a happy Swede living in Hong Kong for the past 5 years with my husband and 2 sons (ages 12 and 9). Living the life as a stay-at-home mom combining playing a lot tennis with a rich social life!
2) How long have you been around the community and what program(s) have you enjoyed the most?
I was intrigued by Kenzai after another soccer mom (Elissa and K-trainer) showed me the set-up so I gave K-Body 1 a shot and loved every bit of it. Did Body 2 straight after and then onto Chisel. K-run is now my 4th program and I do feel that Kenzai has really changed my lifestyle!

3) Do you have any prior running experience? And if so, what experience, and what is the longest distance you've run?
During my school years I ran a lot and I really mean a lot. I was on the High School cross country and track and field team. Ran 800m on track and 5km in cross country. For a long period of time running was my only way of exercising.
I think the longest distance is around 15km, but this was very long ago!!
4) Why did you sign up for this program, and do you have any specific goals for yourself?
I felt that this program would be easy to combine with a summer away from home (I'm spending 9 weeks in Sweden with a detour to Spain for 10 days). The weather is so much better for running outside than in HK, not to mention that it is almost impossible to run outside in HK due to the humidity and heat as well as the lack of good paths to run on.
I must give cred to all of you who do travel while being on a program, it is way harder than I ever thought it would be.
My goal is to be fit and have a better endurance when I get back to HK for my tennis season!
5) What one food or drink do you miss the most when you're on a training program?
Oh, hard question!! It must be all the Swedish food that I miss while being away from Sweden. Next week, I will be in Spain and all the good Spanish food will be very tempting.I must confess that I will make some exceptions to the diet since I only visit Spain and Sweden once a year!
6) Anything else you'd like to share with your teammates?
Go Team go!! I look forward to doing this summer journey with you all!!
This was my little lady bug friend, who joined me at the todays workout!
---