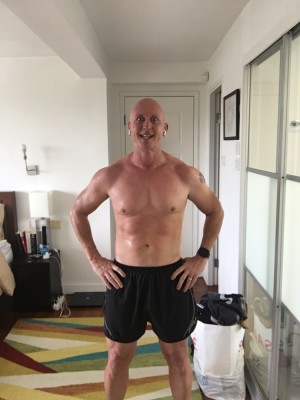 Just jumped off Chizz, dropped 5kg. Now I want to add that back, but make sure it's muscle - not fat.
After jumping around for 6 weeks, I am really looking forward to pumping some Iron. Specifically I would like to :-
- work on some L/R muscle imbalances I have, and bring my left side up to right side levels. (biceps, triceps, delts)
- work on my pull up game
- break through a few PBs on the weight front and increase my working weight on all exercises.
- experiment with some different lifting techniques
- really concentrate on uncovering some abs.
My scales have gone nuts, so I don't know what BF% I am, but will try and get a DEXA scan in the first few weeks so I have an accurate reading.
Upcoming perils. 1) Burnsie holiday booked. It will be action packed (it always is with twin boys). I WILL work out (it's the only peace and quiet I get). But, I will stray off the diet for a few days.
2) Small sojourn to watch some pre-season friendlies in SG (football). Again, exercise will NOT be a problem, diet will.
In order to mitigate against above perils I will be adding in extra work, so always 20 mins skipping, and extra daily cardio where time permits.
That. Is. The. Plan.
---