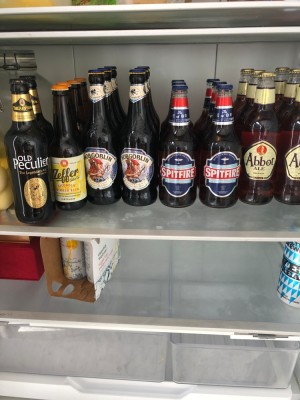 1) Who are you? Where are you? What are you?
I am Scott, or Burnsie, or Baldy Burnsie to some. I live in Hong Kong with my wife and two boys. They are twins, and keep me on my toes. When I am not wearing my "Kenzai Hat" I run my own business in HK.
2) Why Iron? What do you want to achieve at the end of the program?
This is my fourth Iron. I bloody love it! My last Iron program finished in December, but I did not end it in style as we had to move house. I donated my 'Hillbilly Squat Rack" to someone, and ordered a shiny new one, but it took weeks to arrive. So, this time round I am going to put the new rack to good use, and tear this program up like a monster!
3) When training, what do you struggle with most?
Not drinking wine and beer. Not dining out with family and friends. Oh and beer.
4 When training, what do you find incredibly easy?
Finding time to exercise. I find a slot, make it sacred, and get in the groove!
Pic is of my beer fridge and was taken just before Christmas. The fridge is now empty, and it will stay empty until Day 90!!
---