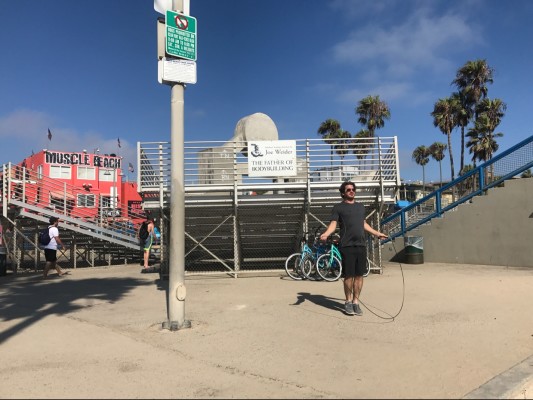 I have returned from my vacation and what a blast it was.
Here's a pic of me doing the Kenzai workout at Muscle Beach in LA - which was fun!
LA was a breeze for Kenzai. Loads of great food and plenty of time to workout.
Then we hit the road in the RV and things got tough. All restaurants on highways in the States are totally off limits. I used my indulgence and had a sinful burger from Carl's Jr, other than that, we stuck to home cooked meals in the RV with produce bought from Whole Foods - so that was fine.
I skipped a few workouts whilst on the road, since I was the sole driver pulling a few 14 hour drive days which were brutal and tiring. But, other than that I was focused on staying true to the program with fresh food, daily exercise and so on - adding some big hikes in places like Yosemite and Sequoia National Park - epic.
For most of the trip we had zero cellular or wifi connection due to our remote locations (a blessing in disguise), so I had to do the workouts from memory and have missed some of the stepping up of exercise you guys have done over the last couple of weeks. So, the last few days are gonna be tough - but will do my best to finish on peak form alongside you all.
Over the passed few weeks I also missed the blogging and pic uploads - and got a slap on the wrist from the trainers for that. But, it was really great to be offline for a few weeks, and in hindsight the timing of my vacation and the Kenzai program was a poor call on my part.
Anyhow, it's good to be back home and checking in on the Kenzai app to see what I've missed.
---