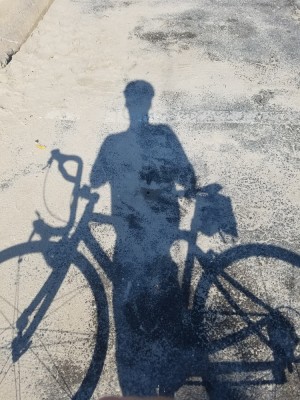 It's biking season here so I'm starting to get out and about now and then but I do need to get into a routine. I have a few fundraising rides on the calendar and they are fast approaching...mileage anywhere from 50 miles in a day to 192 over a weekend. Chizz Sizzle is an intentional part to my overall conditioning and desire to move a few more El-Bees (lbs aka pounds) off this old frame.
Never have I used Strava before but did finally download it onto my phone and took it for the first spin yesterday -- after the Chizz Day 1 workout. I want to do a little extra each day so yesterday was a quick 17 mile spin. Strava said I rode 1.2 miles at an average speed of 56mph...wow! Perhaps I need to go back and read the directions. Anyway, I'll figure it out and then can share some island rides with everyone.
Today I had the entire gym to myself (picture below)...this is the dance studio room at my hometown gym. I am hitting the road on Thursday for the next 9 days so I'll be doing Kenzai on the road (KOTR - new acronym). My destination has a great gym but diet will be challenging...but I'll figure it out. I do travel a fair amount so this is nothing new.
Day 2 was another good workout...left a puddle of sweat behind. I have struggled in the past with HT and DHT due to wobbly shoulders but today I did pretty well, was happy with my output. Finished Cycle 2 in 16 minutes including stretches. But my damn toes are hurting from those HTs! Also, I pushed out 10 Chest Dips no problem...never before have I been able to push 10 in a row and today did it twice - FTW! I blame The Ranger work earlier this year for the Chest Dip endurance.
I let a few pounds creep back on over this past month and I'm looking forward to Chizz-sizzling dat sh!t off! As my good friend Peter Cetera once said, "only the beginning..."
No Booze Streak: 1 (hahahahahahaaaa)
---