Scott H.'s Kenzai Iron program, Iron | Sep 9 2019, starts in 19 days.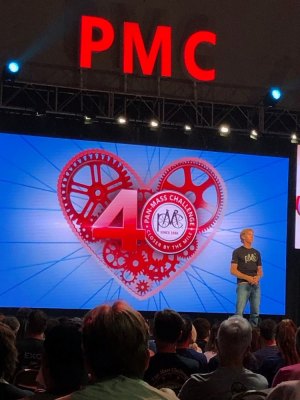 This past weekend me and 22 of my (Bike) Teammates joined forces with 6500 other riders to participate in the Pan Mass Challenge (PMC). The PMC (www.pmc.org) is a 192 mile two-day bike ride from Sturbridge Massachusetts out to the tip of Cape Cod in Provincetown, MA. The PMC benefits Boston's Dana Farber Cancer Research Center and the Jimmy Fund (Boston Red Sox) and in it's 40 year history the PMC has raised over $700M … yes … $700M! I am a founding member of my bike team and I am very proud to say that this year we will top $1M raised as a team over our 14 year Team history...and 100% of every rider raised dollar goes directly to the Dana Farber.
The PMC has a long and storied history here in Massachusetts and being a part of this most incredible event is emotional and inspiration with lots of tears, laughs, hugs and high fives. It's a weekend that brings the human spirit to life right in front of your eyes as 6500 riders, 4000 volunteers and hundreds of sponsors and thousands of spectators all join together for 2 days to support a single goal...to eradicate cancer.
Some who might be reading this post were kind enough to support the PMC, my ride and my Team ---THANK YOU!
I also want to thank Kenzai, the Kenzai Trainers and my trainee friends and teammates. This year beginning in January I did KB3 + Ranger + Blast + some Chisel (audited the class) and because of this effort with Kenzai as my North Star I rode lighter, faster, with less effort required, more comfortable and overall significantly better overall fitness than in any previous year. And ohhhhhh what a difference. A difference during the ride and certainly a difference in recovery. This sh!t just works...again, thank you Kenzai.
So I am still on my Kenzai Summertime schedule and most of August I will be beaching, biking, golfing, grand-fathering and enjoying family and friends visiting. We will have overnight guests almost the entire month of August into Labor Day. I'll be back in FULL Kenzai spirit starting September 9th. Below are a few pictures from Pan Mass weekend.
1) Opening Ceremonies with PMC Founder Billy Starr
2) Friday night Bike Staging in Sturbridge MA
3) Saturday morning 5AM at the start line
4) Team photo at the Pedal Partner Tent - photo in the middle is Max, our Pedal Partner Buddy
5) Crowd at Opening Ceremony
6) Another Team photo on Sunday visiting my Mum
7) Photo at Mass Maritime Academy (Bourne MA) - "Living Proof" (cancer survivors who rode the PMC)
8) Sunday morning 5:30AM looking down the Cape Cod Canal
9) Map of the PMC 192 mile route (through 47 towns) to Provincetown Cape Cod
10) Mighty Max with Julian Edelman (NE Patriots)
11) PMC Finish Line
12) Party Boat heading back to Boston via Massachusetts Bay
---