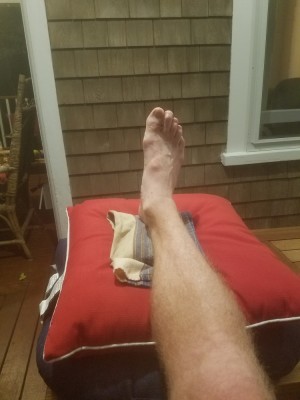 At the beginning of each Program I look out over the calendar and identify those days where I know there will be diet/exercise headwinds. I am usually very good at looking ahead and planning to go through, under or around them. This session is full of obstacles...not to mention a few holidays. Most often these headwinds present themselves as diet speedbumps. This session will include...
- Several golf tournaments
- a weekend with my son and his friends...an annual golf outing with good food and better wine & whiskey
- my birthday week
- the lovely Eileen's birthday month!
- my Mother's birthday celebration (her first birthday without my Dad...ugh)
- New England Patriots vs Cleveland Browns (with several friends...)
- 2 Team meetings (one starts on Wednesday this week at Lake George NY)
- Scheduled travel to Iowa, Texas, Florida (2 trips), Colorado, Arizona and North Carolina
- A visit to NC to visit Grand-littles (combined with some work in NC)
- A visit to Arizona to visit the other 2 grand-littles (combined with some work in AZ)
- several TBD Celtics Basketball games
- Oh, and Thanksgiving
That's all I can think of at the moment in terms of what I know to be already scheduled. There will be a few unexpected headwinds I am sure.
One headwinds that has already taken me by surprise and I need to figure out is my home court gym. As a Rubber-band warrior I never noticed how busy the free weight area was. I have always worked out in a totally separate room. Walking into the "weight" room I was surprised at how busy it was...in the early morning things are crowded...so today I went into the gym at 5:30pm (after work)...even worse! So bad I had to leave...came back home and did the body-weight session. I'll go tomorrow morning --- early --- and we'll see what's going on. Bottom line having never used the weight room I need to figure out when will be the optimum time for me and my schedule.
Oh, and then there is the fact that my Achilles Tendonitis has flared up (picture)…(RICE)
"Do not let what you cannot do interfere with what you can do." -- John Wooden
---