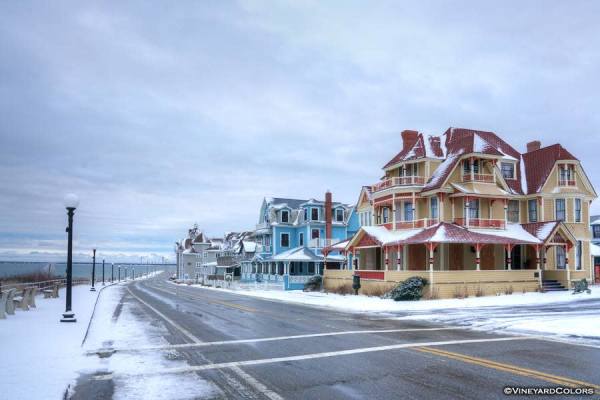 Long, long, lonnnnnnnnngggggggg travel day yesterday. ...and I came home to snow (see left... c/o Vineyard Colors...this house is just down the street)
0:dark:415am wake up call - taxi to Tucson Airport
6:30am flight to Dallas ... delayed 30 minutes (no big deal)
10:45 flight DFW to BOS...delayed almost 3 hours...this is a big deal
6:10pm arrival in Boston --- my Cape Air flight home left at 6pm ... rut row!
7:20pm - 2 hour Bus ride from Airport to Woods Hole Ferry (The B in Plan B stands for Bus)
9:45pm Ferry Boat to home
10:45pm - walk in the front door
10:46 - watch the Celtics finish off the Lakers
11:30pm in bed...oh, and it's daylight savings time...sweet!
This trip was 11 days, longer than most but that was mostly due to my being able to bookend the trip with visits to my oldest (Brad, see previous post)) and then my youngest (Taylor) and the grand-littles (pictures below). And while in San Diego managed to also squeeze in a Kenzai IRL sighting and rendezvous with Kenzai legend & superstar --- Watson...what a treat that was, lots of laughs and stories (also pictured below).
Travel this week really derailed my workouts. Thursday was a scrambled up travel day and a last minute client dinner nixed Day 60. Day 61 I intentionally scrapped the workout in favor of time with the grand-littles. During my 36 hour fly-over visit we built puzzles, played soccer, went to the park, enjoyed the Children's museum, rode bikes...and of course we trampolined. In fact we trampolined so much I think my L3 and L4 are now one-in-the-same....good decision on my part to skip the workout. And Day 62? Well, you just read about my Day 62. So the fallout is no workout 3 days in a row. Diet however was ultra right and tight. No breakfast or dinner carbs was not that bad by the way (breakfast carbs are back this week). Lots of Protein and veggies on board.
Now in days past, in programs past, missing a workout meant finding time to gett-er done and check the box. But interestingly enough not this time...I am at peace with it...what an odd feeling. I am not pouting for a change, no whining nor complaining nor feeling bad about it. I am in fact feeling very good about being able to put this behind me and move on, move forward, look ahead to what will be an epic week 10! (and beyond).
Tonight I will hit the bike for the 45 minute free cardio and then in the morning I am in my home town gym - home court advantage! ...yes! Although I will be away Tuesday-Friday night this week I will at least be in the Eastern US Timezone! ...and finally, I am also hitting the reset button on 8MA, extra cardio and +1 Challenge YSBs.
But saying it and DOING it are two very different things. 28 days of greatness lies ahead for all of us if we make that choice. As my good friend Ben Franklin said, "Well done is better than well said!"
No Booze - 68/69 since Jan 1 (Streak = 61)
Exercise daily - 62/69
8MA -
YSBs -
#sharetheswag
---