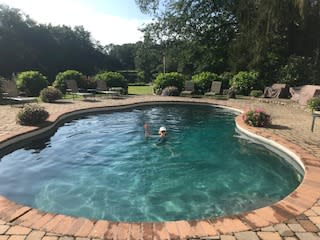 John C and I were asked by friends if we would PLEASE occupy their country house in Connecticut while they spend August with a new grandson in Seattle. so we are here for two weeks before we drive to the Adirondacks and spend the last week of August there. This is not heavy lifting. It's a major gift to us. We pride ourselves in being city types, but my oh my...it is pretty wonderful to do my workout first thing in the morning here, then jump in the pool immediately afterward to cool off (yes, that's me in the photo). The only sounds we hear are the birds and crickets. Cars go by the front of the house but not often, and they don't seem to make noise. (How does that happen? In Manhattan, it seems many drivers feel if they don't have one hand on their car's horn, they're not really driving!
The added high note of our summer is that Willett B, the very guy who got us involved in Kenzai in the first place four years ago, has just moved back with his family to the States from Hong Kong where they lived for the past 20+ years. So we are thrilled, knowing we'll see much more of them. In fact, they plan to join us here in Connecticut for a few days before we all head up to the Adirondacks, where his kids can swim in the lake, take hikes, race around with other kids...all that good end-of-summer stuff.
So we are lucky duckies and I'm enjoying the Kenzai Life exercises as I await the startup of the TShirt Blast program. It sounds like fun (did I say fun?) to try. It lasts 28 days so how can that not be a great experiment?
Meanwhile, am waiting to hear that Janet L's son Anthony has made it safely back from the summit on his climb of Lenin Peak in Kyrgyzstan. I believe she said she should hear something on Friday so am sending prayers and good vibes his -- and her-- way. We're with you, Janet!
---