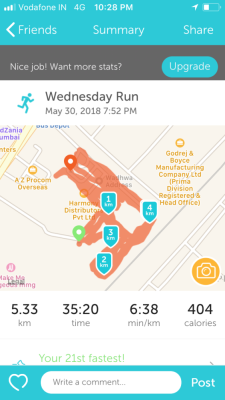 Another ' punch the card' week in. Managed six and half workouts and generally on point with diet. Went out for curry dinner one night as indulgence and boy, did I regret it. Not only did I not enjoy the taste neither did I enjoy next 24 hours. To be sure this is my regular joint that I have eaten at and enjoyed a zillion times but last week the flavours and spices were a bit too much. It was like taking a guy used to mellow lounge music straight into a blaring discotheque. I had a splitting headache next morning ( am assuming related) and thats where the half workout came in.
There are lot of lessons about the valley but am not feeling it right now. Have become almost unemotional about this and dont know if thats a good thing. The only emotion I encounter once a while is impatience when a see that stubborn belly fat.
One thing that got me from Day 47 workout was crab walk after three triceps workouts - i could barely manage one 30 sec walk. Isn't crab walk after triceps a bit too taxing - was it there by design ?
I ran for the free cardio and is it sticky or what . Last five minutes stretched for an eternity. Got some conference days this week and Grok may growl but I hope I can keep him on a leash. Good luck team - here's the business end of this !
---