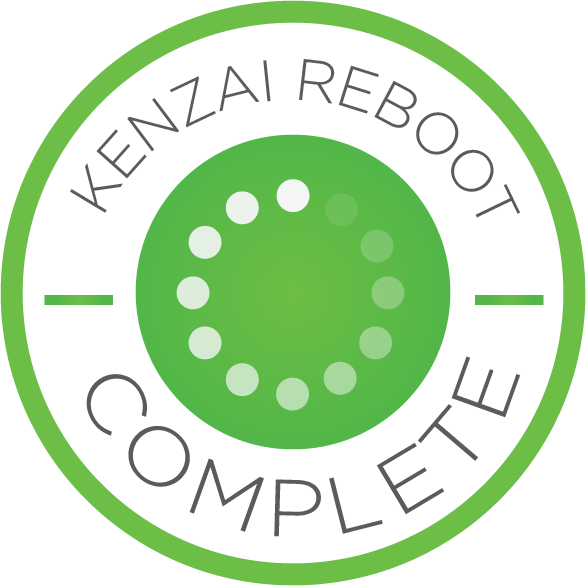 To start I'd like to thank the amazing Kenzai team for the wonderful holistic programs that they have made available to us all. I'd also like to thank my Reboot comrades for sharing this short July Reboot journey with me.
For the most part, this program seemed to go by pretty fast.
Here are some things I've learned this time:
Like anything worthwhile, solid training doesn't just happen. There is a significant planning portion of this that requires my attention. Attention while shopping for sure but also to food preparations so I have what I need on hand and EASILY accessible. I need to continue to allocate food planning/prep time.
Attention also needs to be placed on what my body can (and can't) actually do. Out of ignorance I'd hurt my wrist the week or so before this program - yoga via video is not necessarily a good plan. Checking around online I've learned what I did wrong in that pose (wish I'd known in advance) and Ward helped with some suggestions on how to strengthen the wrists so I could get back in the game.
Feeling better I thought I'd tackle some freshening up of my home. This involved, among other things, rearranging the furniture. You know where this story is going. Yes, I hurt myself in the process. Nothing quite like a strained lower back to let you know how out of shape you really are! (As if I needed any additional reminders!!)
Reality can be so viciously brutal. Yet simultaneously motivating in an epic way! I need to continue to strengthen my core as a priority before a serious injury occurs.
I've learned that I'm reasonably good at staying away from processed foods however, getting in all the servings of fruit and veggies is a MAJOR challenge. I think I will need a few more weeks of using an alarm to remind me for the 'snacks'. The alarm system has been working for me - nothing else I tried has been as successful in getting these portions down.
For me going forward is going to be a continuing journey. I'm staying "on diet" and intend to pursue a three-four time per week workout. I'm going to try skipping everyday though because I think the showing-up part of this process is super critical for me. I joined Reboot because I obviously didn't continue showing up after Kenzai Body in the way I needed to, so this time around I need to hold fast to the routine.
I wish all of you the best of luck in your future endeavors. Blessings to you!
---