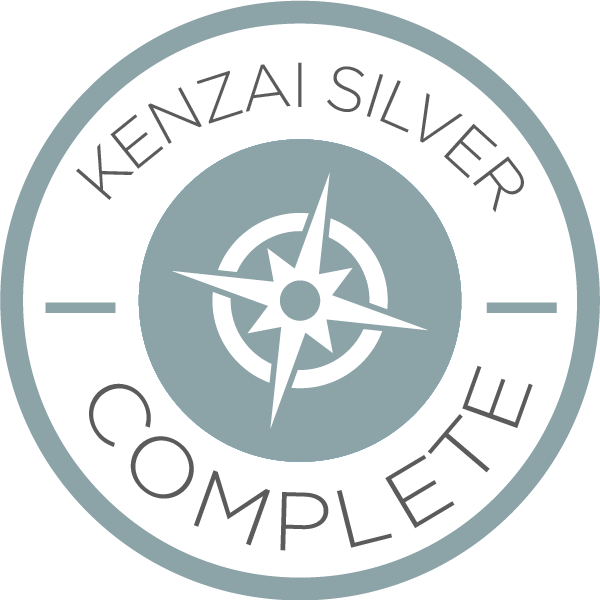 WOW I've completed Kenzai Silver! I'm so happy! I realise that I've come a long way! From having to hold my lower back when I stand up and walk, to now being able to jog on a treadmill!
Throughout many lessons on Kenzai Silver, Day 55 (The Quick Drop Off- the concept for a good death) really hit it home for me. I came to a sudden realisation that I wouldn't want to live to 90, if it's ten years of suffering and a burden for me and my loved ones! It's important to live a full life and ideally a quick and sharp death would be a relief. I don't pay attention usually, but these two months of diet and workouts prove to me that I could be active and strong. Today's final assessment was an eye opener because I wasn't fearful of walking up and down a flight of stairs anymore. Before this program I would be anxious and worried of the pain I'd have to endure on a flight of stairs! I use to be worried to encounter stairs when I'm out in public but now it doesn't bother me at all. This sense of confidence and freedom is definitely something that can't be bought. And for the cherry on-top… I started at 75.2 kg and I'm now down to 69.9 kg. I lost 4 cm on my waist and lost 6.5 cm on my hip! I'm going for a blood check next week and I hope I'll get some promising results on my blood-work and cholesterol levels.
I carried out the ten tasks with my daughter and son-in-law as a witness to my improved fitness and balance:
1. Reaching for something on a high shelf: I felt it was easy and I was feeling balanced. I felt that my every body part worked in sync for me to go up on my tippy toes and I got what I needed on the first attempt without holding the counter for assistance.
2. Reaching behind me: It's rare that i do this movement, but it was quite easy today when I did it but I do notice my back is tighter when i twisted towards the left side.
3. Picking up a coin (keys) off the floor: I did it with ease— on one try. I wasn't wobbly or dizzy afterwards.
4. I've fallen and I can't get up (lay on back): I pretended that both my arms didn't work and I had to do a full sit-up, and then used my balance and core to push up and stand. This required a little planning and effort but overall doable.
5. I've fallen and I can't get up (chest version): I pretended to injure my left arm and at first I flipped over to my back, and then got up with ease.
6. One leg balance: it wasn't difficult at all because I've been doing something similar to a one-legged exercise move on the daily workouts, and this was even easier.
7. Bring in the groceries: I could pick it up a bag of groceries with ease and walked to the kitchen and back and then placed it slowly on the original spot. My arms and shoulders weren't tired at all.
8. Take the stairs: This should be the biggest challenge and my greatest improvement amongst all the other actions. I didn't need to hold onto my lower back or the stair railings to assist me. I wasn't panting or out of breathe from walking two levels on the fire exit staircase. Going down was harder in comparison still because of my knee joints. My lower back was completely pain free and I wasn't anxious nor worried at all which is a great feeling.
9. Obstacle Course: This challenge was actually kinda fun! I placed some of my grandson's toys on the floor in a zig zag shape and I had to tip toe around them. Then my daughter put a chair in the corridor so I had to go sideways and squeeze through a narrow space, then she placed a pack of water and I had to straddle over the obstacle very carefully. I did it all with ease while singing a CHA CHA CHA song. My family was all impressed and most importantly my grandson clapped and said "Grandma Number 1".
10. Clean Sweep: Sweeping with the broom was simple and smooth with no pain on my waist. Maybe the plastic broom was too light to begin with. I had good control of the broom through the whole movement too.
Final thoughts: Nothing in particular gave me any trouble in this final workout. I found them surprisingly easy to execute. Yes, I do feel the workout and training helped me with a lot of these tasks. I feel that now I have a stronger core, better sense of balance, and sharper hand and eye coordination.
Lastly, I wanna thank Ward and all the team members for helping me along, supporting me, and it's awesome that we all got through this together. Also, I'm so grateful for the support of my family. They did the last workout with me and gave me presents and cheered me on throughout this journey. I'm going to continue walking everyday at least and I'll implement the 3 day schedule workout (Monday, Wednesday, and Friday). I plan to also be eating more fruits in replacement of sugary snacks and lessening salt in my daily diet. Now that I'm skinnier, I feel the skin on my belly is getting looser, so I'll aim to workout my abs and core more and brisk walking everyday. Kenzai Silver training has definitely changed my attitude towards my body and fitness for the better. So proud of everyone on my team, you all did great! Hoping everyone a prosperous, healthy, and happy life!
---