The Week in Review, Boston Skyline
Jul 29th, 2019 at 10:34PM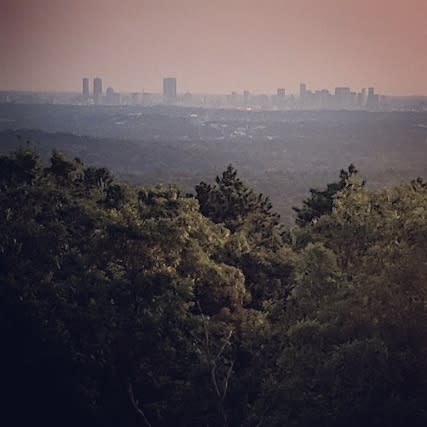 Hello. I've been using my blog to keep myself accountable as I prep for a monster run at the end of September. Here is how things shaped up on the fitness side:
Monday - 5 mile run
Tuesday - MTN Bike Ride
Wednesday - 30 minute walk, yoga
Thursday - 5 Mile Run
Friday - MTN Bike Ride
Saturday - MTN Bike Ride
Sunday - 13 Mile Run
This week was a banner week. I revisited the furthest distance I have ever run in a single go. And I did it in style, tackling the Blues Hills Preservation in Boston with my pal Dan. We rallied early, after staying up far too late, to mash some miles and take in the incredible views of the city at dawn. Temps were meant to be over 90 F so an early start proved to be a sage move.
I've done 13 miles probably 6 or so other times. As my marathon training evolves in the weeks ahead, I will be running the furthest I have ever run before. Whoa. New terrain ahead.
Today, I am recommitting to strength training. I've had my first niggle show up and I know it is in part due to my slack approach to strength training. I'm firm in my resolve to get back to it. And while a few weeks ago I wondered if 26.2 would be doable, I can totally see the path forward. That is energizing!
Hope all in the Kenzai-verse are happy and well.
Song of the Day: Sky Blue Sky by Wilco https://www.youtube.com/watch?v=e2Hfs8J6pHo
Tweet