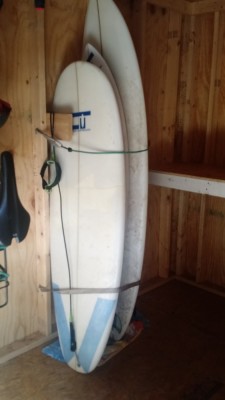 Team, I've labored over this decision, but I'm pulling out of this session of Bells II. It's weak sauce. I know it. But I'm doing it anyway.
I've completed every Kenzai course (some twice) but Silver and Run. I've taken Repeak three times and that doesn't even exist anymore. I've never had my heart half way in a program like this. Here's the truth, jumping in was ill advised and I need a fresh start.
Need proof. I haven't completed a workout since I put the plank challenge in the books. I can't tell you the last time I went 3 days, without a workout. Not to mention over a week.
Here's what I have been doing. I handled several epic house projects that were on the to do list following my successful completion of Chisel earlier in the summer. Head Trainer Thomas and I built a killer sliding door from 1970's hardwood I've had in our basement for six years! Plus, we re-modeled his shed. It looks dope!
This pill is super tough to swallow as I'll continue to be guiding the hand of my Bells II brethren, as a Head Trainer, no longer as a participant. I'll be hopping into KB3 today. And the next time they get a message from me, I'll be delivering it from a place of integrity!
To Jenn, Naoko, Maria, Raj, and Aalok, our small crew is getting smaller. Apologies. But I'm an adult. I gotta do me.
Angela S., I'm up to to 23 days hitting the 8 minute abs. Gonna be short of my target of 50. But I'm still fighting.
Ps. If 8 minute ab challenge crew aren't able to access the Kenzai 8 minute abs, hit this: https://www.youtube.com/watch?v=pNqrkGnkUWc
We are moving some content over to another application. Updated link: https://kenzai.wistia.com/medias/ga75cfotht
Song of the Day: Tuesday's Gone with the Wind by Lynyrd Skynyrd https://www.youtube.com/watch?v=iFNbTdLfBwQ
---