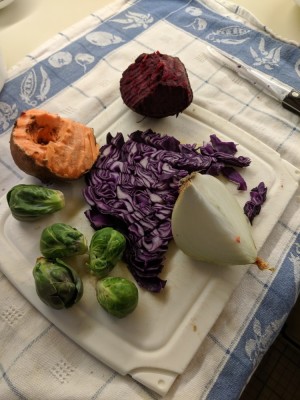 My garden has started to produce a bit - thank the maker. See cutting board of dinner most nights and the bowl is the finished product. A Kenzai super power I possess is that I am very happy with the same food day after day after day.
Lots of temptation thoughts- had a good bit of dental work done today...was a bit loopy and drove past the A+ pie/ice cream shop and did not stop...WHEW - it was close, there was a temper tantrum by my inner child. But - I let the adult steer the car.
I am going to do some re-training - I like the "flipping" squat clean, but see that there is a better way...will go to school on it
Lung jump - there is no jump
TGU - I experimented with more weight 13.6 KG [30 pounds] and the 10 kg [22 pounds] could do both - the heavier is clearly heavier - room to grow there.
One arm lunge press - step back instead of forward as there is much much less impact [hip again]
I like the pass around - but live in fear that I will smash fingers
Go Team go
---